It's almost Halloween, and you know what that means: scary movies, spooky costumes, and lots of sugar! Everyone loves a good Halloween treat to top off their holiday, and there are countless ways to get creative with the goods you serve. After all, trick-or-treat candy isn't the only way to enjoy some Halloween treats.
One great way to go about this is to throw your own Halloween bake sale. Whether you're raising funds for a cause, looking to boost promotions for your business, or simply excited to share your fabulous Halloween recipes with the community, a bake sale will help you do it all.
Here's how you can get creative with your love for Halloween and add a spooky twist to your special bake sale.
1. Pick your location
The first thing you need to do is make sure your bake sale is visible to the public. So pick a location that is guaranteed to be noticed. Host your bake sale near your store or business, at the neighborhood school, local community center, or even the public park to get people to notice it.
Make it accessible to the public so they can see it from a mile away and head on over for a fun Halloween treat.
2. Add a spooky touch to your stall
Once you've figured out your location, the next step is to create that Halloween vibe. Jazz up your stall with frighteningly fun Halloween decorations so that your customers know you're all about the scary season.
A great way to decorate your bake sale stall is to set up a fun theme that works for the kids as well as the adults. Choose a theme commonly recognized by everyone, like the classic Willy Wonka theme. Put up cardboard cutouts of Oompa Loompas around your stall to sell the vibe. Hang up some orange and black streamers along with some pumpkin-themed fairy lights.
Give your stall a fun name to engage your audience. Here's a bunch of exciting names to inspire you:
Willy Wonka's Halloween Treats
Spooky, Scrumdiddlyumptious Snacks
The Creepy Candy Factory
3. Conjure up some terrifying treats
You might have everything set, but you're missing the main ingredient. Your Halloween snacks!
Make sure your bake sale tempts all passers-by with the delectable aroma of your mouth-watering baked goods. To attract even more customers, cook up some themed snacks to go with your stall decor. Some homemade artisanal chocolate bars or some irresistible gobstoppers would work great with your theme.
So get a bunch of Halloween-themed snacks ready for your customers to munch on while they enjoy their haunting experience.
You can also get them excited with some of the following scary food ideas:
White chocolate covered strawberry ghosts
Pumpkin marshmallow pops
Mummy-wrapped hot dogs
Witch hat cupcakes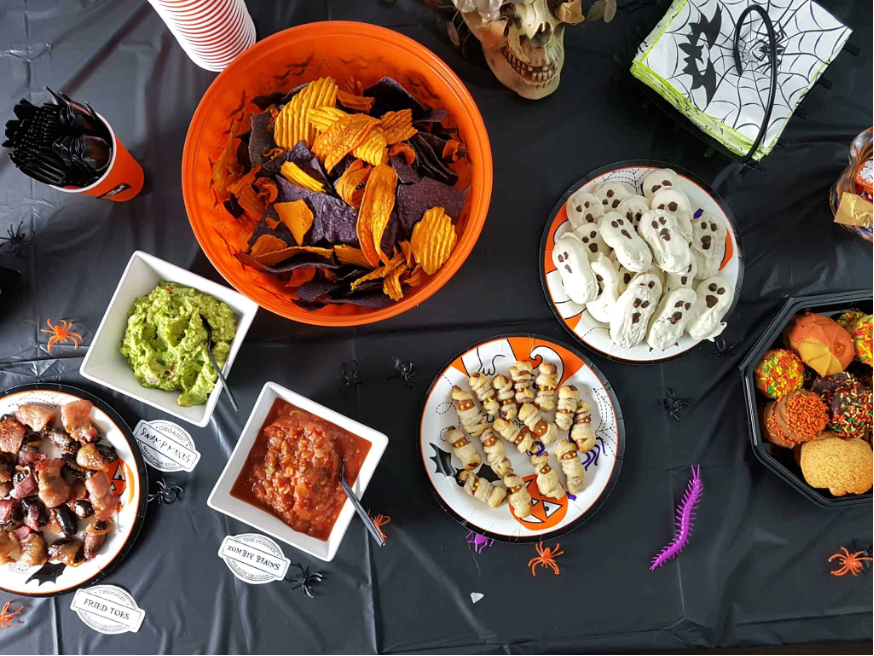 4. Hand out freaky flyers to get the word out
You're almost done prepping for your bake sale. But is it worth it if you haven't told people about it? To get the word out, you need more direct measures to engage your local community.
Look for places in your community that have high foot traffic and have a set of eye-catching Halloween bake sale ads ready to be put up. Designing a professional flyer might look challenging, but it's a lot easier than it seems. With online design tools like PosterMyWall, you can get free access to a wide range of Halloween templates to use and customize according to your needs.
Create a free account on PosterMyWall and look for your template of choice. Then hop onto the editor and add in your own touches and additions to make it fit your spooky theme.
To create attention-grabbing flyers, add your bake sale title at the very top in a creepy font. Add in some Halloween-themed illustrations. Some cobwebs across the flyer and a spider hanging off your title will do wonders for your design. If your bake sale has a special purpose, such as fundraising for a local charity, add in a QR code in one corner to link your audience to all the information they need to know.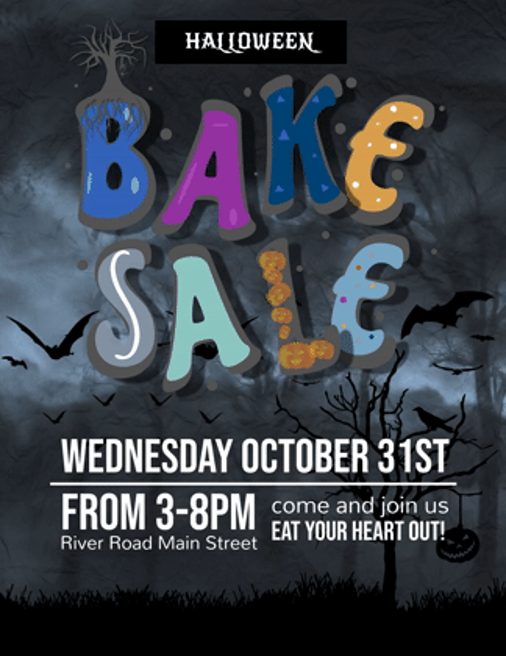 Bonus tip: Plan ahead
People love celebrating Halloween. Whether it be through simple trick or treating, raging parties, or simple, fun events, everyone loves a good spooky celebration. This is your chance to take advantage of the seasonal hype and plan out your Halloween events accordingly. All you need to do is plan ahead and come up with creative, unique ways to utilize Halloween for your purposes.
If you're still looking for more interesting ideas and tips on how to add a Halloween twist to your plans, try out the PosterMyWall Halloween Calendar for exciting ways to promote your events this scary season.