Memory cards are storage devicesthat can store a lot of data.These are also used to keep photographs and videos. The photographs and videos tend to be safe from getting spoiled in these cards. Memory cards are commonly used in mobile phones, digital cameras, DSLRs, and many other devices, which directly saves the data in them.
However, the data isn't safe in the cards either as viruses and malware keep attacking digital storage media.Sometimes, we accidentally delete the data too. On the other hand, at times, the card gets corrupted and files become unable to read. Many times the storage media gets formatted, leading to data loss. However, do not worry on this World Photography Day 2020 Stellar Data Recovery India has come with a hefty discount on 1 year license which is now available at cost of 1 month.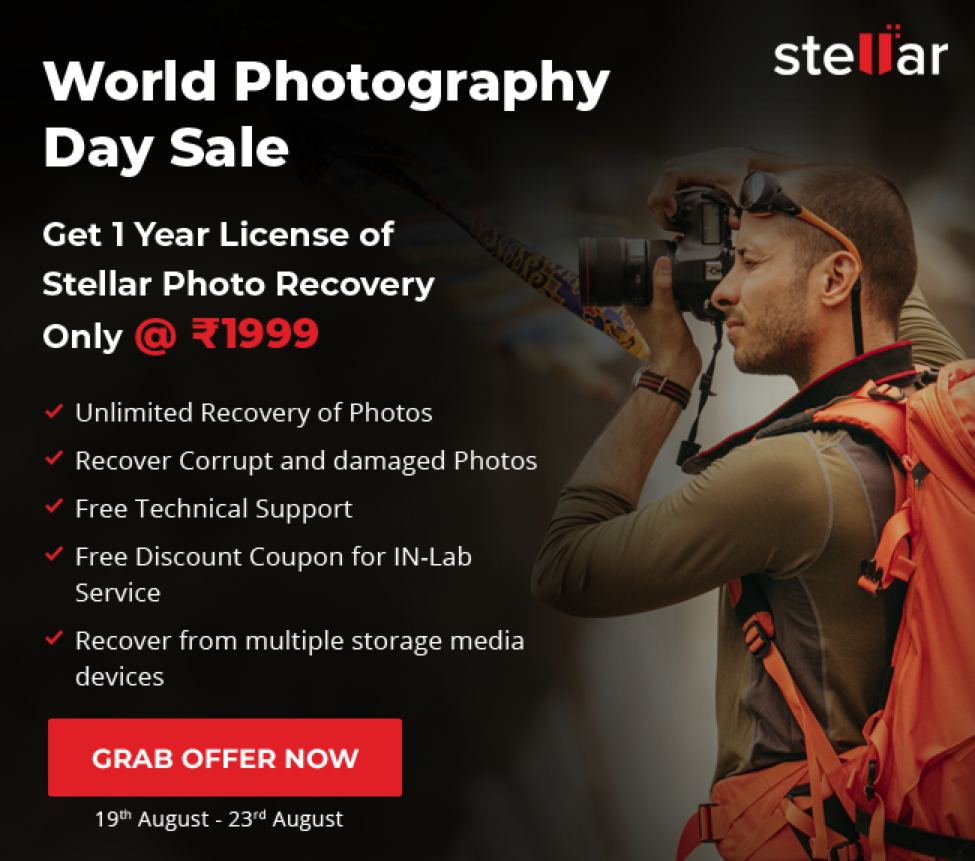 Can I Recover Lost/Deleted Photos from SD Card?
You can easilyrecover lost photos and other data from an SD card. Stellar Photo Recovery is the best toolthatcan help you recover the lost data from SD card.
Before using the software to restore deleted photos and other data, keep these points in mind:
No read and write operation should be done on the storage media, once loss of data has been spotted.
No trial and errors methods should be executed on the affected storage media.
Overwriting on the affected storage media could lead to permanent data loss.
Keep the card safe from any physical damage.
Why Stellar?
Stellar has been recovering data for its customers since 1993. Its responsible nature is cherished by renowned companies like Google, Genpact, Axis Bank, Infosys, and many others. It promises complete transparency throughout the data recovery process. Also, 100 percent safety and security is ensured, along with privacy, of the recovered data. Anyone can rely on Stellar as it offers a risk free data recovery service.
What is so good about Stellar Photo Recovery Software?
Recovery: The software can not only recover photos but videos and audios too, with their original names and date-timestamp. It even recovers RAW camera formats of Canon, Nikon, Fuji, Sony, etc.
Device: The software can recover data from memory cards, SDXC, SDHC, USB flash drives, CF cards, hard drives, CD/DVD, etc. It also recovers from DSLR, GoPro, camcorder, drone, dash cam, and CCTV.
Quality: The software doesn't compromise with the original photo quality. It also corrects issues such as grainy, loss of colors and distortions, etc. in the photo.
Formats: The software is compatible with multiple file formats.They are as follows:
Photographs: .NEF, .NRW,KDC, DCS, DRF, .D25,.ORF,.RAW, .RW2,.ARW, .SRF, .SR2,.RAF,.X3F,.PEF,.MRW,.CRW, etc.
Audios: RPS, MP3, AU, WAV, MIDI, OGG, AIFF, RM, WMA, RA, M4P, M4A, ACD, AMR, AT3, CAFF, DSS, IFF, M4R, NRA, SND, etc.
Videos: AMP4, 3GP, AVI, MPEG, MKV, AVCHD (MTS), DIVX, MOI, VOB, OGM, 3G2, ASX, MTS, AJP, F4V, VID, TOD, HDMOV, MOV, MQV, M4B, M4V, WMV, MXF movies, SVI, etc.
Damages: The software is designed to handle severe cases of data loss.Hence, it can recover data from devices which are formatted, corrupted or encrypted.
When Should I Buy it?
Stellar Photo Recovery Software is available at a hefty discount on the occasion of the World Photography Day 2020. So, this is the best time to buy the software. Now, you can recover permanently deleted photos, videos and audios for an entire year at the price of a month. Stellar Photo Recovery software's 1-year license is available at the cost of 1-month license. The sale is open from 19th of August to 23rd of August.
The World Photography Day is celebrated in respect to the invention of Daguerreotype, which was the first ever way to capture an image on a silvered copper plate using the light. Sir Louis Jacques Mandé Daguerre invented this and hence it was named after him. Since then, there has been a rapid growth in the world of photography. We have now arrived in the era of digital cameras and DSLRs. Losing data is a matter of seconds when talking about the digital storage media as you cannot figure out when could anything happen which will lead to the deletion of data.
With more than 26 years of expertise, Stellar data recovery India offers trusted data recovery services and assures you of 100% data recovery, with complete privacy and transparency. The organization has reached the benchmark of reliability by maintaining a track record of 100% safe and secure data recovery, for over 30 lakh customers. Hence, you should take advantage of the opportunity and buy the Stellar Photo Recovery Software to keep your business running smoothly away from the hurdles of data loss.