This post and the ones that follow will focus on how to track what you eat, get used to weighing your food yes including those cake toppers and friday afternoon drinks. All this by using an app to make it easier and reading nutrition labels quickly.
Yes, some of it will feel overwhelming and difficult at the start and you can't just say i'll use a fat burner like Oxyshred to lose weight. like they say "nothing worth having ever comes easy" and I truly believe that learning about macros (read what are macros?), calories (read what are calories?) and what's in what your food is the key to eventually achieving nutritional freedom and living a completely guilt-free lifestyle with no cosmedix treatment necessary. You'll know when to reward yourself and when to hold back. You won't always need to be obsessively looking at everything you put in your mouth because, if you learn now, eventually you'll be able to count on the fly, track it in your head, all without opening an app.
I've created the following list as a "beginners guide on how to use MyFitnessPal" as I know it can be a bit tricky at the start for people who have never had to track what they consume.
The first thing you need to do is download the MyFitnessPal app.
ANDROID
APPLE
Once the app has installed, you'll need change your goals to the macros/calories you want to be consuming. You can do that by going to:
"More" then
"Goals" then
"Calorie, Carbs, Protein and Fat Goals"
If you don't know what goals to set, go back and read my posts on macros and calories and then speak to a nutritionist, or use Google to search for recommended goals. There are plenty of online examples that you can learn from, like this one from Lauren.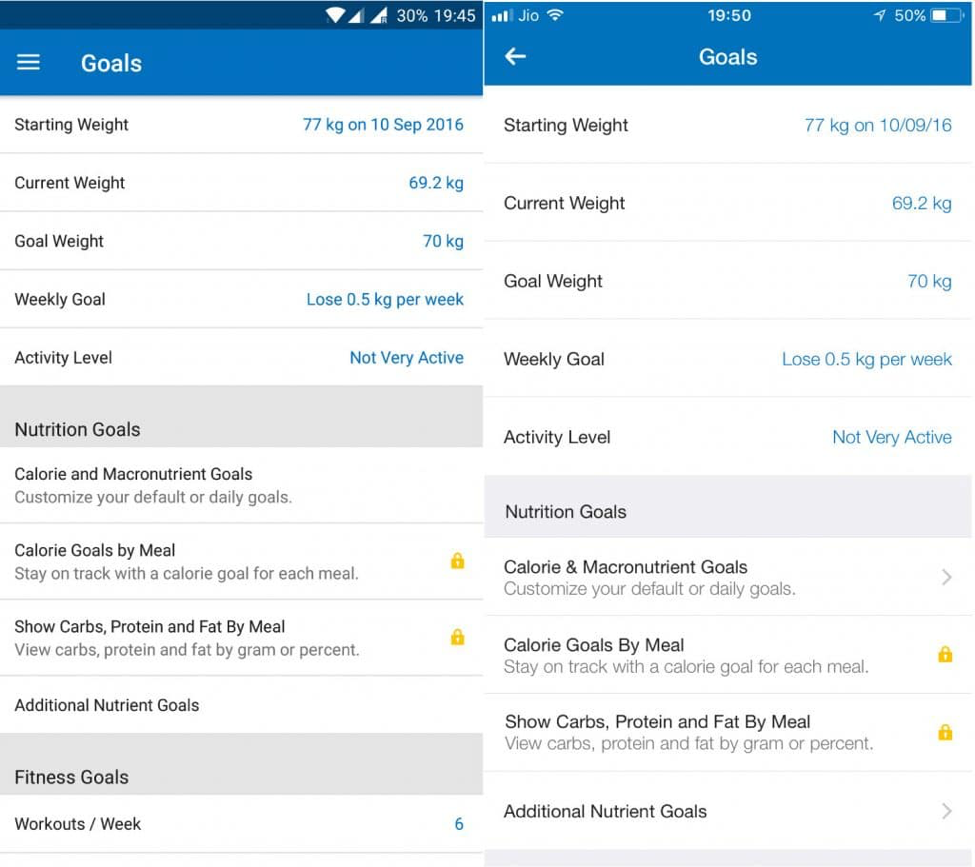 Once you've changed the numbers to your own, you can start adding your food. I always recommend starting off by just tracking the food you're already eating as this will give you a good idea of what you need to eat more/less off and won't make you feel overwhelmed, as if you're trying to nail those numbers straight away. I stress that this is a long process and you'll need to persevere if you want to see results; nothing happens after being "good" for one week.
Once you feel confident enough to start working towards the targets you've set, read through this list:
Plan ahead! I can't stress this enough. This is how you will hit your macros at the start. It's almost impossible to just "wing it" and still meet your targets before you learn what's in your food. Spend 10 min on your phone logging your food for the next day before you go to bed. Doing this consistently will ensure you hit your targets. It helps to set a reminder alarm every night before bed.
If counting seems way too hard and confusing, start with tracking your protein and make up the remaining calories with fats and carbs. Once you've gotten the hang of it, add carbs and fats as well (just be mindful that carbs only have about half the calories that fat does – carbs are 4cal/1g and fats are 9cal/1g). Remember, calories are what matters for weight loss, macros mainly determine how you feel and perform.
If you're making a big batch of something, go to your home page, click "Meals, Recipes & Foods" and "Create a Meal". Then you can easily add 1/2, 1/3 or however much you're eating by going back to your day and clicking "Add food" then "Meals" then choose your serving size and add it. Some recipe pages online even have this function on their page so make sure you look for that if you like to find great recipes online like I do (read my latest recipe – Moroccan Cod & Bulger Salad).
Make it a habit to read the nutrition label before you put food in your basket. I'll explore this in more detail a later post. If you struggle to hit your fats, look for food higher in fat content. If you struggle with carbs/protein, look for foods that are higher in that.
Don't beat yourself up if you're hitting a lot of red boxes at the start. It takes time to learn how to track and the important thing is that you're doing it, trying a new approach and becoming more aware of what you're eating. Progress!
Involve your friends and family! Everything is easier when you do it with someone, and that way you can also keep each other accountable.