To know the main features of a Profile Spot, first of all, we need to know the differences between the four directions and eight directions of moving head profile.
The moving head profile lighting fixture is based on the spot light with a professional framing shutter system, which can cut off the light in a variety of geometric figures, and can realize the dynamic conversion of various shapes according to the needs of the plot and the scene.
Nowadays, these kinds of lights are widely used in surface lighting to cut off unnecessary lights. For example, the lights that are going to be projected on the big screen and the lights that focus on the protagonists. In other words, it illuminates the areas that should be bright, covers the areas that should not be bright, and highlights the stage's key points.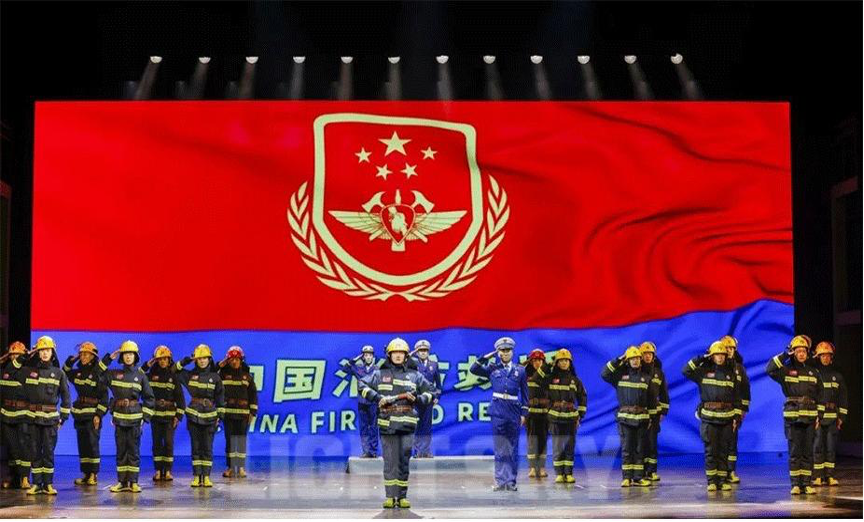 Because of the high cost, profile moving head light was not commonly used in the past. They were only used in some demanding scenarios, such as recording shows, dramas, etc. With time's change and the advancement of technology, many manufacturers have mastered profile technology, and the cost of moving head beam is getting lower and lower, so nowadays, there are some brands producing profile moving head lights at affordable prices.
There are four types of fixtures that are the most basic moving head lights used for performances today which are Profile, Beam, Hybrid and Wash. We believe that the profile moving head will have better development prospects.
Currently, the light source of moving head profile is divided into two types, which are lamp and LED. We will have another article to talk about the differences between these two light sources.
In this article, we will learn about the differences between the four and eight directions of moving head profile lights and how to choose a profile moving head fixture suitable for your scene.
With 4 facets and blades, four directions of moving head profile light can cut into 4 kinds of geometric shapes, such as rectangle, square, semicircle, and circular sector.
The Light Sky 1700W Moving Head Profile — F1700WB features the Osram Lok-it HTI 1700PS Lamp, known for its exceptional color rendering index of Ra≥90. This makes it the perfect choice for stage front lighting, ensuring vibrant and accurate colors that enhance the overall visual experience.
With 8 facets and 4 blades, it can cut into 7 kinds of geometric shapes, such as rectangle, square, semicircle, circular sector, triangle, parallelogram, and trapezoid.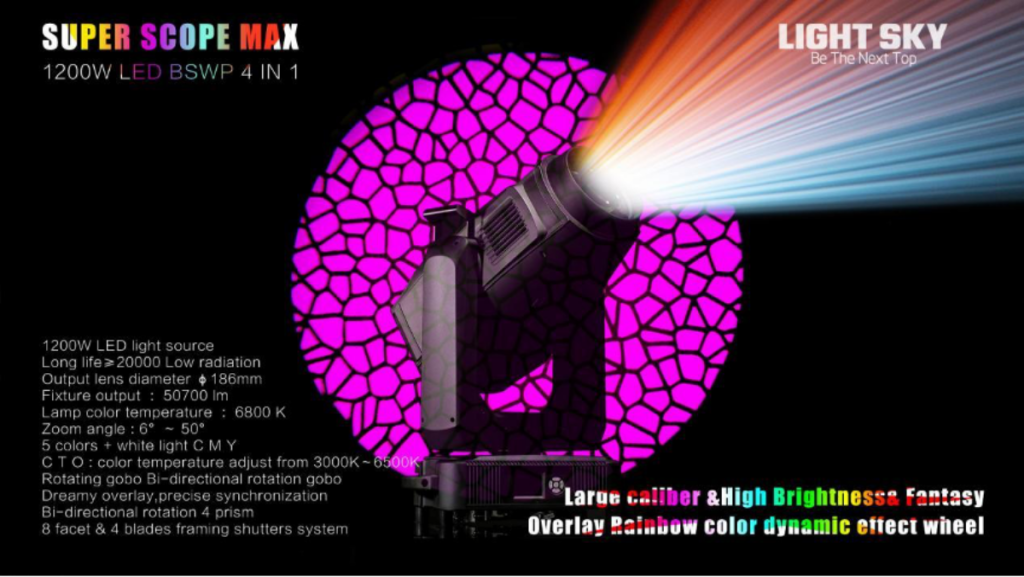 Light sky's new arrival 1200W LED Moving Head Beam Spot Wash Profile 4 in 1–Super Scope Max, with 1200W white light LED module, color wheel+CMY+CTO, and 1 effect wheel can produce a fabulous lighting effect. With 8 facets and 4 blades, it can cut into various geometric shapes.
Martin Viper Profile is a Discharge Profile Moving Head Light that is the best in the industry of stage lighting. The classic product of Light Sky Discharge Moving Head Profile F1000 Profile is the industry's first high-power and high-end. It adopts OSRAM HTI 1000/PS Lok-it 6500K lam, 8 facets and 4 blades framing shutters modules, and ultra-thin cutting module's focus which is accurate and cutting edge clear.
Light Sky will launch a new product LED Moving Head BSWP 4 in 1–Super Scope Pro in 2023. It is high-quality equipment with a 450W white LED module, high brightness, long lifespan, and environmental protection. Super Scope Pro can output light of long projection distance with high illumination, which can reach 26000lm at 10 meters. It can produce a full beam and clear spot and is suitable for theaters, TV stations, large-scale concerts, gymnasiums, and other high-end performance sites.
When we talk about the Profile Light, we must not forget the theater lighting. Light Sky LED Profile C42, which consists of 90pcs×3W LED Chips, is the first LED Profile with a full color temperature from 2800K to 10000K in the world, which can display the color temperature from sunrise to sunset smoothly and flicker-free. The HSIC color Marco system offers a range of six fundamental colors: red, orange red, mint green, green, blue, and indigo. These colors can be combined to generate a multitude of high-quality shades. C42, an LED Profile, is particularly well-suited for theater applications.
Welcome to the Light Sky website to learn more about stage lighting!